Swift Ground Control Station
Designed from the ground up for drone mapping.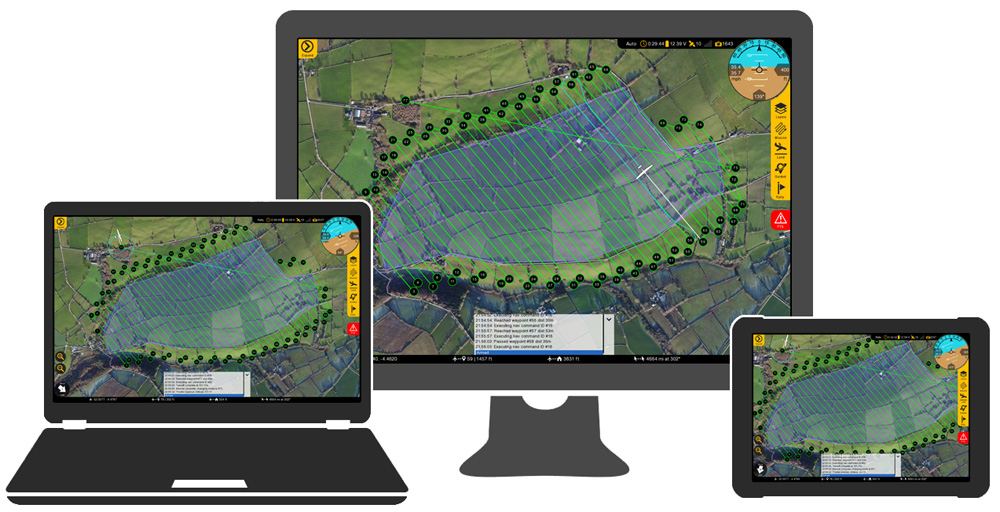 Swift Ground Control Station (GCS) is your mission planning and control interface for Lynx VTOL and other MAVlink drones. It features a sleek and simple touch screen interface that is ideally suited for field tablets, and requires minimal computing hardware to run. New users are guided through the flying process via the built-in checklist and preflight steps. Survey planning is fully integrated with intuitive controls and drag-and-drop waypoints.
Benefits
Automated safety checks
Increased situational awareness
Short learning curve
Reduced preflight time
Minimal computer hardware needed
Plan
Mapping an area of interest with Swift GCS is a simple process. Create a polygon from scratch with drag and drop points, or import a KML using the KML to survey tool. New areas drawn can be saved for future use. Adjusting options such as altitude, heading, and overlap will update the survey grid in real-time and can be tweaked at any point. A survey summary displays useful information such as the area size, photo count, and estimated flight time.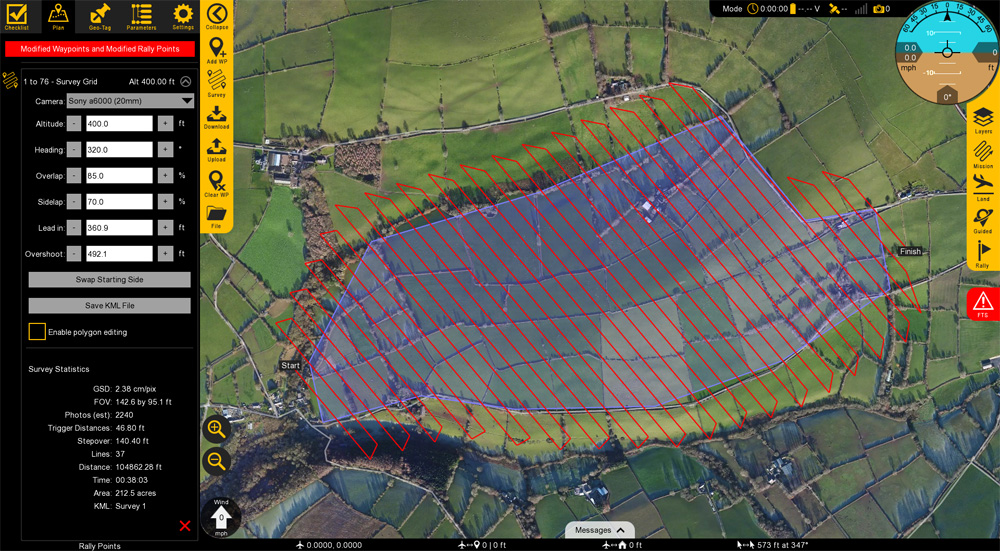 Survey Tools
KML-to-survey (Google Earth)
KML import for overlays
Polygon survey grid
Saving and loading complete survey missions
In-flight photo count and feedback
Geotagging
Preflight
Increase safety, user friendliness, and reduce preflight time with a built-in checklist. The integrated checklist features automated preflight steps and an illustrated walkthrough to help new users.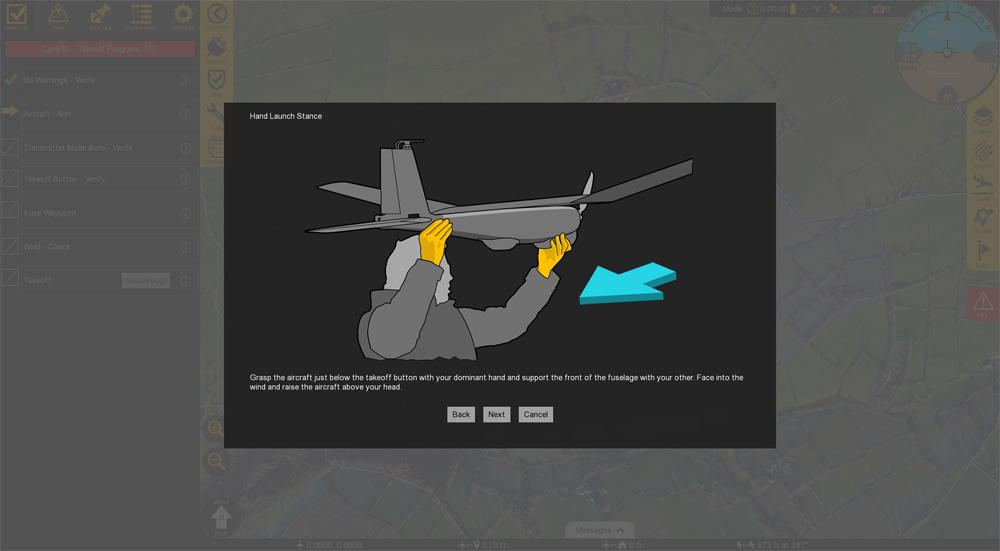 Preflight Features
Integrated checklist
Illustrated walkthrough
Automated checks
Waypoint uploading and verification
Aircraft calibration tools (compass, accelerometer, gyroscope, airspeed)
Fly
While the primary purpose for flying will be to survey and map an area, other flight modes may be needed depending on the situation. Swift GCS gives you control in multiple ways. During a survey or mission, you can change which waypoint the aircraft is heading to, or restart the mission entirely. Other modes, such as Guided, enable control via point-and-click waypoints that are created separately from the mission. In Guided, the aircraft will fly to your point and, upon arrival, loiter there until instructed otherwise (unless a failsafe is activated). The flight mode Rally will send the aircraft back to home or a rally location and loiter. This mode is also triggered automatically for certain events such as loss-of-link.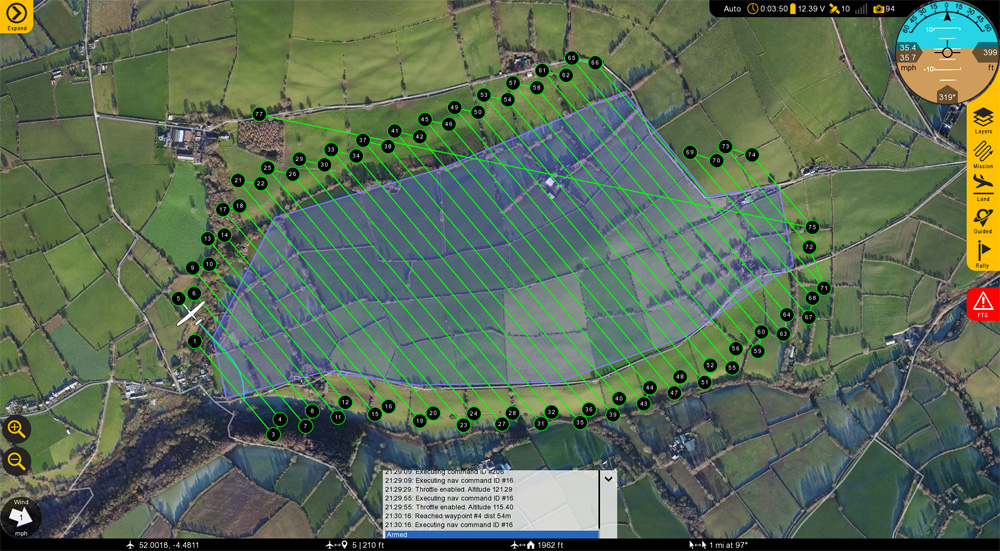 In-flight Features
Wind estimation
Messages and warnings panel
Aircraft trail and current location
Aircraft heads-up display (HUD)
Distance to next waypoint and from home
Landing approach and loiter visualization
GPS, battery, radio, and flight mode status
Automatic flight timer
Photo count and feedback
Display ADSB-IN traffic
Terrain Visualization
See more before you fly. The terrain elevation layer provides insight to where you fly before takeoff. Understanding the surrounding terrain can be critical for safety and planning purposes.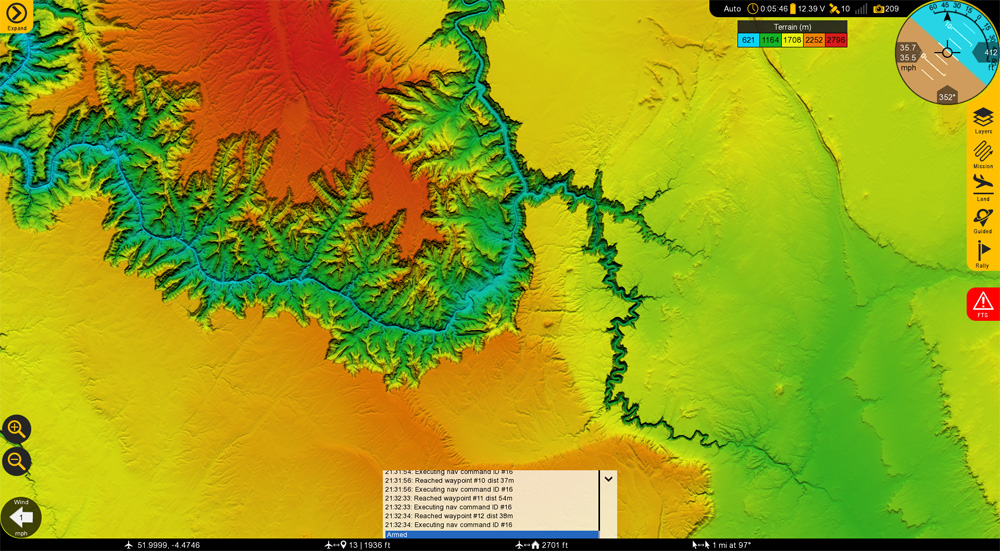 OEM Customization
Swift GCS can be configured to your specific system with customizable checklists, mission planning, and system settings. Utilize the internal updater to deliver improvements directly to customers.